June 27th - 30th, University of the West of England, Bristol, UK
Conference Programme
The programme for HealthGrid 2011 (27th-28th June) and CBMS 2011 (27th-30th June) is shown below.
| | | | | | |
| --- | --- | --- | --- | --- | --- |
| Key: | CBMS | HealthGrid | Sponsored Event | Reception/Dinner | Refreshment/Lunch break |
Monday 27th


Tuesday 28th


09:00

HealthGrid 2011 opens

Keynote: Professor Richard Sinnott, Melbourne

CBMS 1

CBMS 2

Posters - Setting Up

CBMS Tutorial

Ontologies

Dr Sonja Zillner, Siemens
Dr Daniel Sonntag, DFKI
Dr Kamran Munir, UWE

HealthGrid 1

DATA SHARING AND SECURITY

and

FRONTENDS AND APPLICATIONS

Posters

EGI Sponsored Keynote: Steve Brewer

Student Lunch – Research Leaders

HealthGrid AGM

HealthGrid Board of Directors Working Lunch

CBMS 3

TECHNOLOGY ENHANCED LEARNING IN MEDICAL EDUCATION

Track Keynote:
Iraklis Paraskakis, SEERC

CBMS 4

ONTOLOGIES, TERMINOLOGIES AND LANGUAGE PROCESSING

and

CBMS Tutorial

Visualization

Dr Femida Gwadry‑Sridhar

HealthGrid 2


CORE TECHNOLOGIES

Posters

Posters

HealthGrid – Jean-Claude Healy Lecture

Dr Vincent Breton, IdG, CNRS

CBMS 2011 opens

Keynote: Mary Kratz, PEPFAR

CBMS 5

SUPPORTING COLLABORATION IN HEALTHCARE

and

HealthGrid

Life Sciences Grid Community

Showcases

CBMS & HealthGrid Tutorial

Cloud Computing

Dr David Wallom, OERC, Oxford
Dr Peter Bloodsworth, UWE

British Computer Society, Bristol Branch

Cloud Computing in Healthcare & Biomedicine

Ian Herbert, Vice-Chair, BCS Health
Dr Nick Papanikolaou, HP Labs
Professor Luciano Floridi, Herts/Oxford
Dr Hanene Boussi Rahmouni, UWE

Chaired By:
Dr Peter Murphy, Bristol Children's Hospital
and UK Faculty of Health Informatics

Conference Dinner

after dinner speaker
Professor Peter Barham, University of Bristol
"The science of taste and flavour"

Reception
Wednesday 29th


Thursday 30th


09:00

CBMS

Keynote: Professor Harold Thimbleby, Swansea

PhD Student Workshop

Surviving your PhD
Research Ethics

HL7 Workshop

Ann Wrightson, HL7 UK

09:30

10:00

Posters

10:30

CBMS 6

Track Keynote:
Dr Ian Anderson, Bristol

CBMS 7

STREAMS, SIGNALS AND VISUALIZATION

and

11:00

PhD Student Workshop

Panel
&
Presentations

HL7 Workshop

continued

11:30

12:00

12:30

Student Lunch – Graduates of the Last Decade

CBMS Committee Lunch

13:00

Bidding for funds

13:30

CBMS

Keynote: Professor Iain Buchan, Manchester

Lunch to take away

CBMS Committee Lunch

14:00

14:30

Students with an imaging specialization have the option to attend the Young Vision Researchers' Colloquium in the afternoon. Registration for this event is required by Wednesday 22nd June.

†

CBMS 8

INTELLIGENT PATIENT MANAGEMENT

and

and


†

CBMS 9

BIOMEDICAL IMAGE PROCESSING AND INFORMATICS

continued

15:00

15:30

16:00

16:30

17:00

17:30

CBMS

Keynote: Professor Frances Griffiths, Warwick

18:00

18:30

CBMS

Prizes and Closing Remarks

19:00

See map of restaurants.

19:30

20:00
† A short comfort break will be provided within the session
Avon Gorge Hotel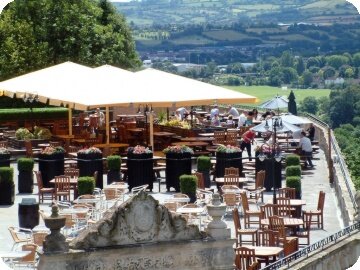 If the weather is nice we intend to gather informally at the Avon Gorge Hotel's Terrace Bar (located here) from about 4:00 pm on the afternoon and evening of Sunday June 26th. Everyone attending the conference is welcome to come along. The terrace offers an excellent panoramic view of Brunel's famous Clifton Suspension Bridge as well as the local countryside. The bar serves a wide variety of beers, wine and spirits and pub food.
Please note that the terrace often gets busy later in the evening and parking can also be problematic, so you are advised to arrive early.
If the weather is poor, we will be at the Watershed Café/Bar (located here) in the city centre instead.